Orthodontics is the speciality of dentistry concerned with the straightening of teeth to correct functional or cosmetic issues. When teeth are crowded they may overlap or not form a level line with the eyes. When the teeth overlap they collect plaque much more easily as the toothbrush may skip over the gaps while brushing.
Orthodontics is commonly associated with the use of dental braces, retainers and headgear for the purpose of straightening the teeth and correcting any related growth abnormalities. It can straighten teeth and greatly improve the smile and a person's self-confidence. Using specially designed and fitted appliances; constant and gentle pressure is put on the teeth causing them to move into the desired position. Dr. Crotty has been practicing orthodontics for more than 15 years and all aspects of this area of dentistry are catered for at Old Bawn Dental Practice.
Six Month Braces
Six Month Braces or short-term orthodontics are a popular type of orthodontic treatment for adults who may not wish to engage with a full comprehensive orthodontic treatment. This treatment concentrates specifically on correcting problems around the front teeth only such as crowding or spacing issues, and does not change the back teeth to any significant degree. Not everybody is suitable for this type of treatment, so contact us today for a free consultation to determine your suitability or if you would like to find out more about this exciting and affordable way to transform your smile!
All treatments below were carried out by Dr. Crotty.
---
Before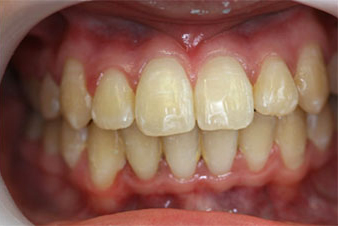 After
---
Before
After